Q-300XT – Stretch Wrapping Machine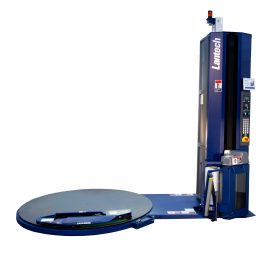 The Q-300XT has saved many customers hours of forktruck and operator time. The forktruck operator doesn't have to wait for their loads to be wrapped, and they don't have to get off the forktruck. They start the stretch wrapping cycle with a remote START lanyard switch and they're done. The film is automatically attached and cut, and the operator is free to attend to other tasks.
Customers wrapping between 30-100 loads per day find that the Q-300XT improves their overall productivity. If you don't have a steady production flow and need to wrap many loads in a short time, the Q-300XT can help, as it can wrap as many as 40 per hour.